Honda CBF1000 06-2009/CBF1000 2010(UK) Fairing Lowers Black with Silver Mesh RRP £210
£185.00
} else if (navigator.userAgent && navigator.userAgent.indexOf("MSIE")>=0 && (navigator.appVersion.indexOf("Win") != -1)) { document.write('
\n'); document.write('on error resume next\n'); document.write('MM_FlashCanPlay = ( IsObject(CreateObject("ShockwaveFlash.ShockwaveFlash." & MM_contentVersion)))\n
\n'); } if (MM_FlashCanPlay && !window.chrome) { document.write(''); } else { var vgalctx = { urlbase: 'http://imagehost. .com', attr: 'SId=89&vName=jon164&vgal=2&ctxt=0x000000&clink=0x003399&bbkg=0xbdcee7&cat=35560&scbkg=0xf5f5f5&sbkg=0xfdfae0&gid=94121' }; var va1 = "SC"; var va3 = "PT"; var va2 = "RI"; var vb2 = "C="; var vb1 = "SR"; var vtg = 'http://imagehost. .com/javascript/gallery/htmlgallery.js'; document.write(' '); document.write(''+va1+va2+va3+'>'); } //-->
       Fairing Lowers Black with Silver Mesh to fit Honda CBF1000 2006-2009/CBF1000, 2010(uk only)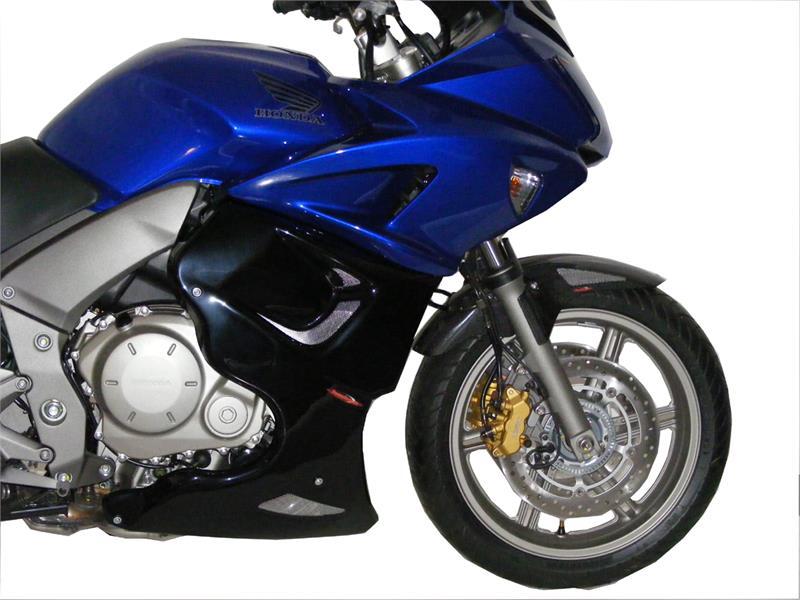 Library Picture
Powerbronze fairing lowers blend beautifully with the original top section to provide leg protection with unique modern styling. Supplied with fitting kits.

Please note that Powerbronze Lowers are not sprayed in the colour to match your bike. They are made from gloss black or white material which is UV stable, and has the additional benefit of not chipping in the way that paint can.

Please visit our e-bay shop for more Powerbronze quality products.
for International shipping quotes please contact us before your purchase.